What happens if the Meraki organization's REST API key exceeds the limit?
Data collection in Site24x7 will be skipped for that particular Meraki organization and its associated devices if the REST API key exceeds the prescribed limit. To prevent this, enable alerting by following the steps below:
Log in to your Site24x7 account.

Click Network > Meraki > Meraki organization > Inventory > Threshold and Availability.

Click the pencil icon beside the Threshold and Availability field.

Once the Add Threshold Profile pop-up displays, under the Threshold Configuration section, toggle the Alert if the REST API key limit is reached for the Meraki organization option to Yes. This is set to Yes by default.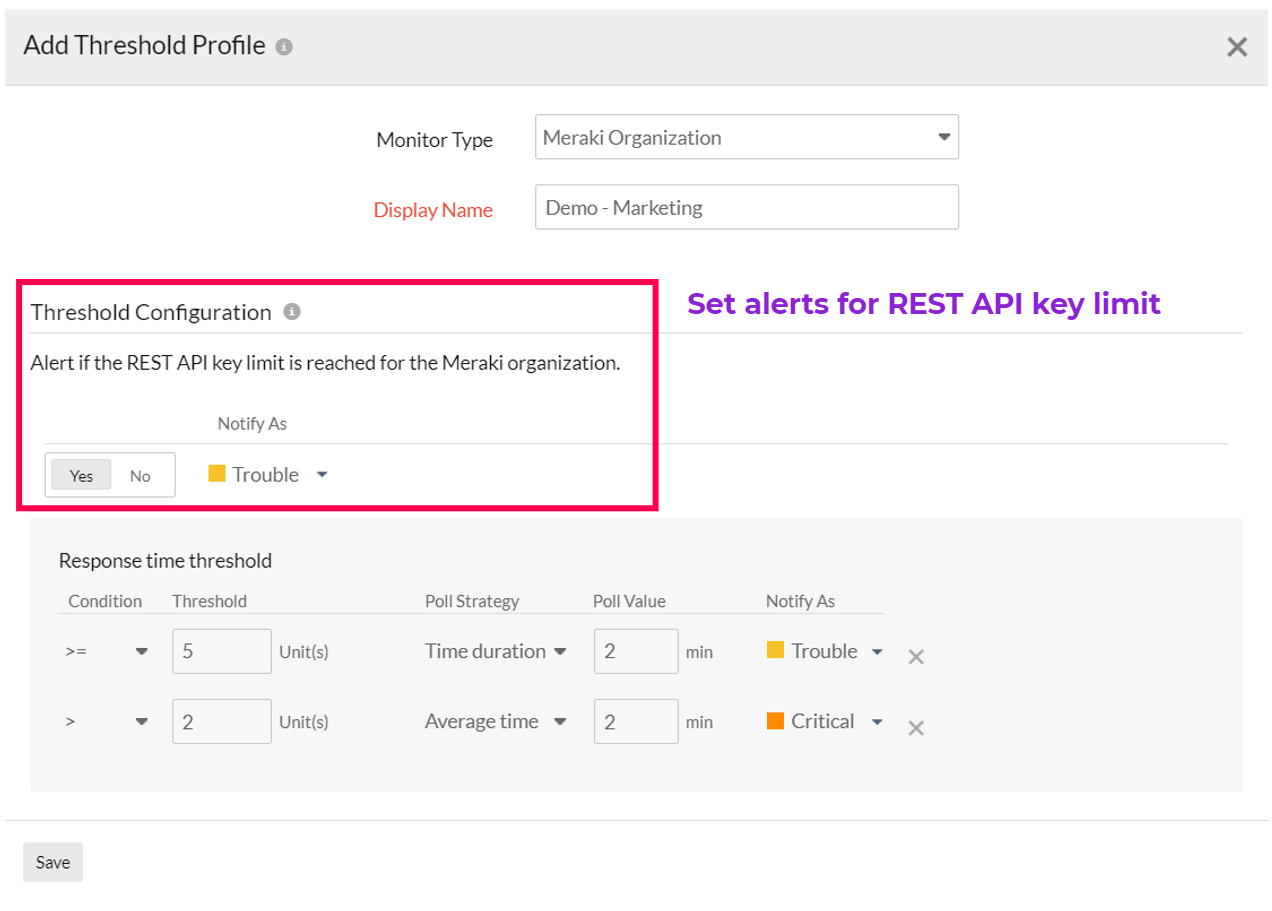 Once you save your changes, alerts will be triggered whenever the REST API key limit is reached for a Meraki organization. You can also
configure alerts based on the thresholds
of various performance metrics of your Meraki device.
Related Articles

How do I generate the Meraki REST API key?

To discover and monitor Meraki organizations and devices in Site24x7, obtain an API key by following the steps below: Open your Cisco Meraki dashboard. Once logged in, navigate to Organizations > Settings. Ensure the option Enable access to the ...

Why is the monitor status shown as Down in the Meraki dashboard while shown as Up in Site24x7?

Test the Meraki REST API response and compare the monitor status with Site24x7 to determine the correct status of the Meraki devices monitored in Site24x7. Case 1: Different statuses for the REST API response and the Site24x7 monitor. Follow the ...

Why aren't my Meraki devices being discovered?

If your Meraki devices aren't being discovered, ensure: The API key is entered correctly. Learn more. The Meraki API has read-only access to your Site24x7 account to discover devices and organizations. Site24x7's IP range is whitelisted in case ...

Unable to suspend or delete my Meraki organization monitor

To suspend or delete a Meraki organization monitor, ensure the Meraki device is suspended or deleted from the Meraki organization respectively. Follow the steps below to suspend or delete a Meraki organization monitor: Log in to your Site24x7 ...

Can a Site24x7 sub-user generate an API key?

No, a sub-user won't be able to generate API key. API key is unique to an account and primarily used to pull data from the Site24x7 account. Hence, API key generation is restricted to the Organization Super Admin of that particular Site24x7 account.