Update my DeskApp after migrating to Zoho Single Sign On
After migration to Single Sign On, you need to update the DeskApp in your Site24x7 account.

If you are already logged in, you will see a notification regarding the update inside your DeskApp client
If you are launching the DeskApp afresh, you will be prompted to update. Please note that you won't be able to log in unless you update the DeskApp

Once the update is complete, use your Device Key (previously called API Key) to login
Get your Device Key from your Site24x7 account by navigating to Admin > Developer > Device Key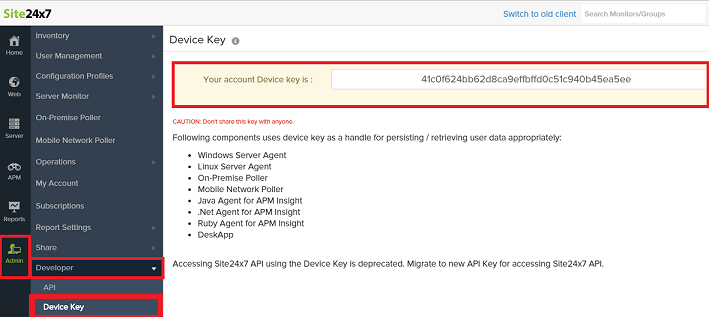 Related Articles

How secure is Single Sign on migration

The migration of existing Site24x7 accounts to Zoho Single Sign-On is highly secure and there is no possibility of your account getting compromised. Site24x7 is part of the Zoho family. We already share the same data center as Zoho, whose Single Sign ...

How do I monitor a single sign-on application using a Web Transaction (Browser) Monitor?

Site24x7 provides the option to enable/disable parallel polling to initiate/suppress data collection from all the configured monitoring locations simultaneously during hourly polls. Polling will be handled asynchronously by default. For a ...

Update Recorder Tool in Web Transaction Monitor after Single Sign On migration

After migration to Zoho Single Sign-On, uninstall the existing Web Transaction Monitor's recorder (Site24x7_Recorder) and install the new version. Follow the below instructions: To uninstall the existing Recorder Tool In your Windows system, go to ...

Advantages of moving to Single Sign On

Single Sign On is an enhancement to the way authentication works in Site24x7. Below are some of the advantages that, as an end user of Site24x7, you will experience. Two- factor authentication (TFA) and stronger password enforcement policies for ...

Steps to be followed after migration to Zoho Sign On is completed

The following presents a checklist of certain actions to be done post the completion of migration to Zoho Single Sign On: Check the email from Site24x7 to see if your account has been successfully migrated to Zoho Single Sign On Follow the ...