How do I stop the auto-addition of new interfaces to an existing network device?
When new interfaces are added to a monitored network device, by default, the Network Module will auto-discover and add them to their corresponding network device, thus consuming your license. This auto-discovery occurs at predefined intervals and will be added based on the latest discoveries. These newly discovered interfaces will be added based on your interface filters but will remain in the active state.
To prevent the auto-addition,
please navigate to:
Network > Settings > Global Configurations >
select
'No'
for the option
'Automatically rediscover network interfaces to include newly added interfaces for monitoring'.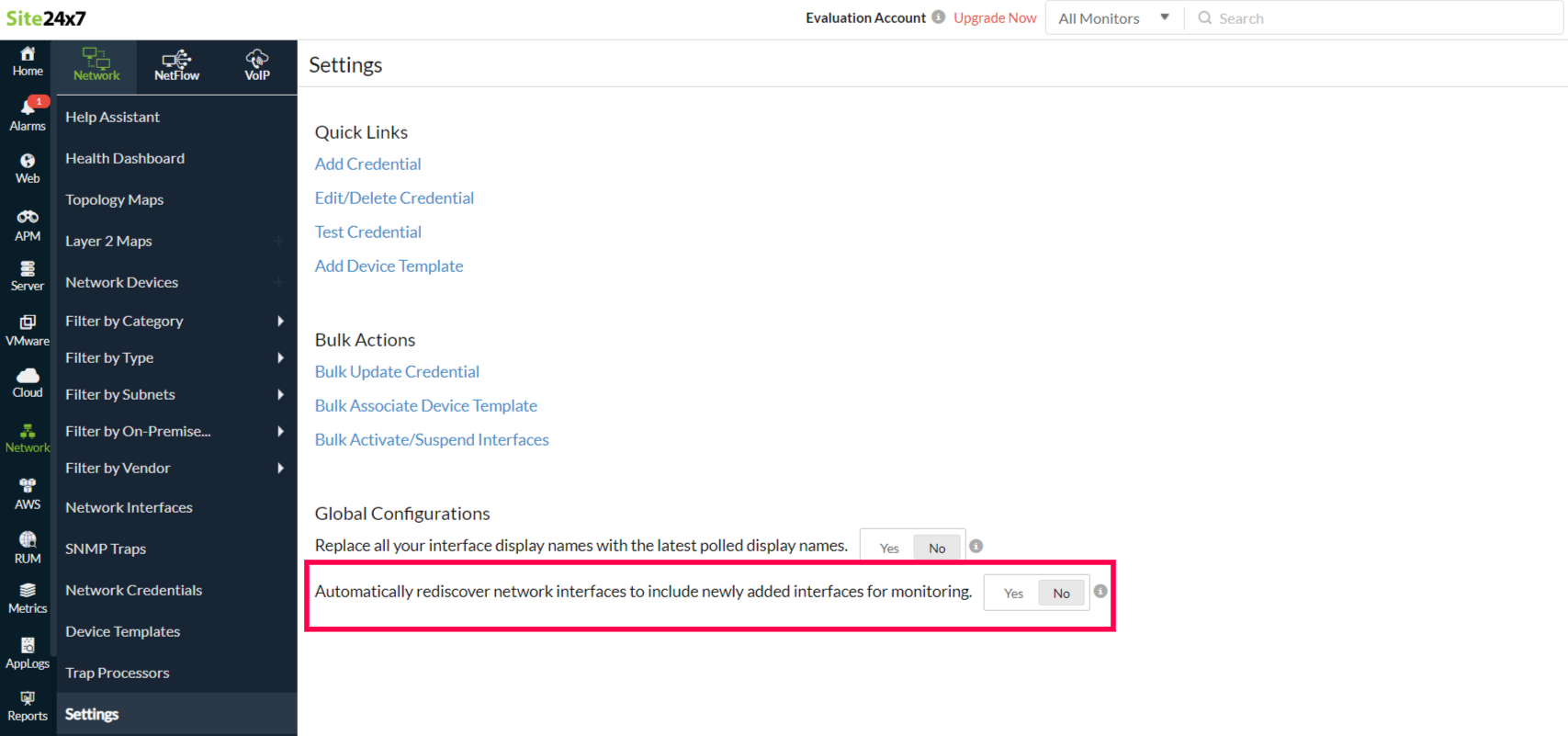 Related Articles

How do I exclude some interfaces from being monitored while adding a network?

While adding a network for monitoring, you are allowed to create a network discovery rule that lets you set up interface filters. Here, you are allowed to define the following parameters: Interface type Admin state (Up, Down, Testing) Operational ...

Set thresholds in bulk for multiple interfaces monitored in a network device

Purpose: To configure threshold values in bulk for interface attributes like In Traffic, In Packets, etc, in a particular network device and get alerted when the value is <, <=, >, >= the configured value. Steps to follow: Login to your Site24x7 ...

Why is my network device or agentless server monitor classified incorrectly?

Topics covered in this doc: How are devices classified? Why is the device classified incorrectly and how do I fix it? How are devices classified? When a device is scheduled for discovery using an SNMP credential, we obtain the device identifier of ...

How to edit the bandwidth configuration of network interfaces?

Navigate to Network > Network Interfaces view from the Site24x7 web client Click on the hamburger icon at the right end of the interface for which the bandwidth configuration has to be edited. Choose "Change Interface Settings " from the drop-down ...

Troubleshooting steps if a device is not being added or the monitor shows Discovery in progress for more than five minutes

If a device is not being added: Check if the On-Premise Poller and the Network module are Up. Learn more. Check whether the device you're trying to add is reachable from the machine the On-Premise Poller is installed on. Check if the device is ...