Delete an organization permanently from Zoho accounts
Site24x7 is a service by Zoho. Site24x7 uses Zoho Account's single sign-on for secure login. To delete an organization account permanently, users will have to access their respective Zoho accounts. Once the account is deleted, you will not be able to access any other services from Zoho, including Site24x7. You need to delete all the users before deleting the organization.


If you've created your Site24x7 account before 2019, please follow the steps mentioned below. Else, please contact support to delete the organization or to clarify your doubts.
Here are the steps for the Organization Super Admin to delete the organization permanently:

Login to https://mailadmin.zoho.com/
Access Control Panel > Dashboard > Delete Organization > Choose Delete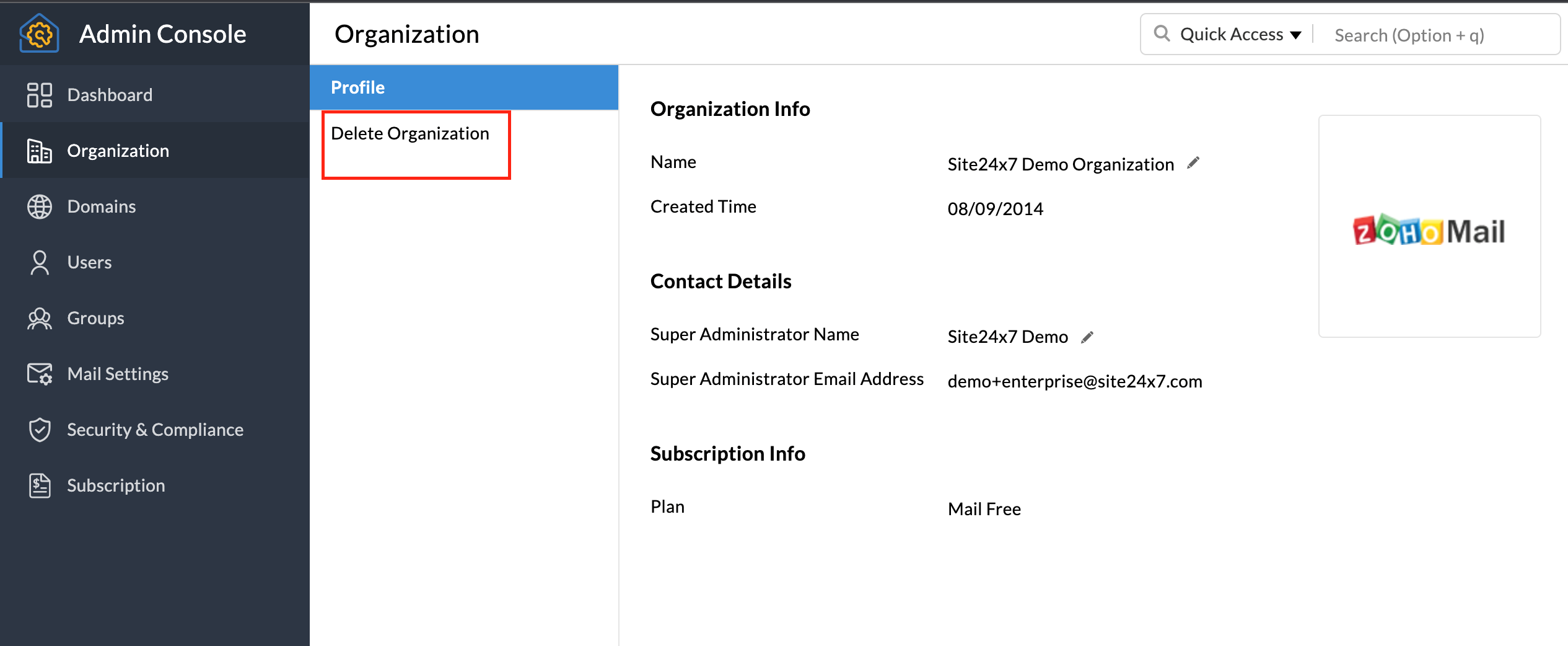 Delete organization

Please be informed that an account once deleted cannot be restored. All Zoho products mapped to this account (if any) will be deleted.

Related Articles

Unable to suspend or delete my Meraki organization monitor

To suspend or delete a Meraki organization monitor, ensure the Meraki device is suspended or deleted from the Meraki organization respectively. Follow the steps below to suspend or delete a Meraki organization monitor: Log in to your Site24x7 ...

How can I change my current organization name?

If you'd like to change your company name—for instance, from Zylker to Vtitan—follow the below steps: Log in to Site24x7. Navigate to My Account > Change Organization Name. On clicking Change Organization Name, you will be redirected to Zoho ...

What happens when I delete a configuration profile or third party integration from one or more of my customer accounts?

Configuration profiles like threshold, notification, location profiles, and email templates and third party integrations can be set at the MSP account level and for each of your customer accounts. Similarly, deleting these profiles also depends on ...

An invitation to join Site24x7 takes me to Zoho.com

Since Site24x7 is a part of Zoho Corp and we use single sign on for authentication, any account created by an user will be created under accounts.zoho.com. Any user from the same organization will be grouped under it, by which you could have a global ...

Status of my account after migration to Single Sign On if I have the same email address for both my Zoho and Site24x7 accounts

Case 1: You are the Admin of Site24x7 account After successful migration to Single Sign On, you can use the same email ID to log in to your Site24x7 account. The password will be the same as that of your existing Zoho account. You will receive a mail ...