Restrict sub user access to certain functions inside my Site24x7 account
You can give role-based access to your sub-users. The roles and permissions can be defined at the stage of adding a sub-user.

Navigate to Admin > User Management > Users > Add User and specify access to different functions based on their role.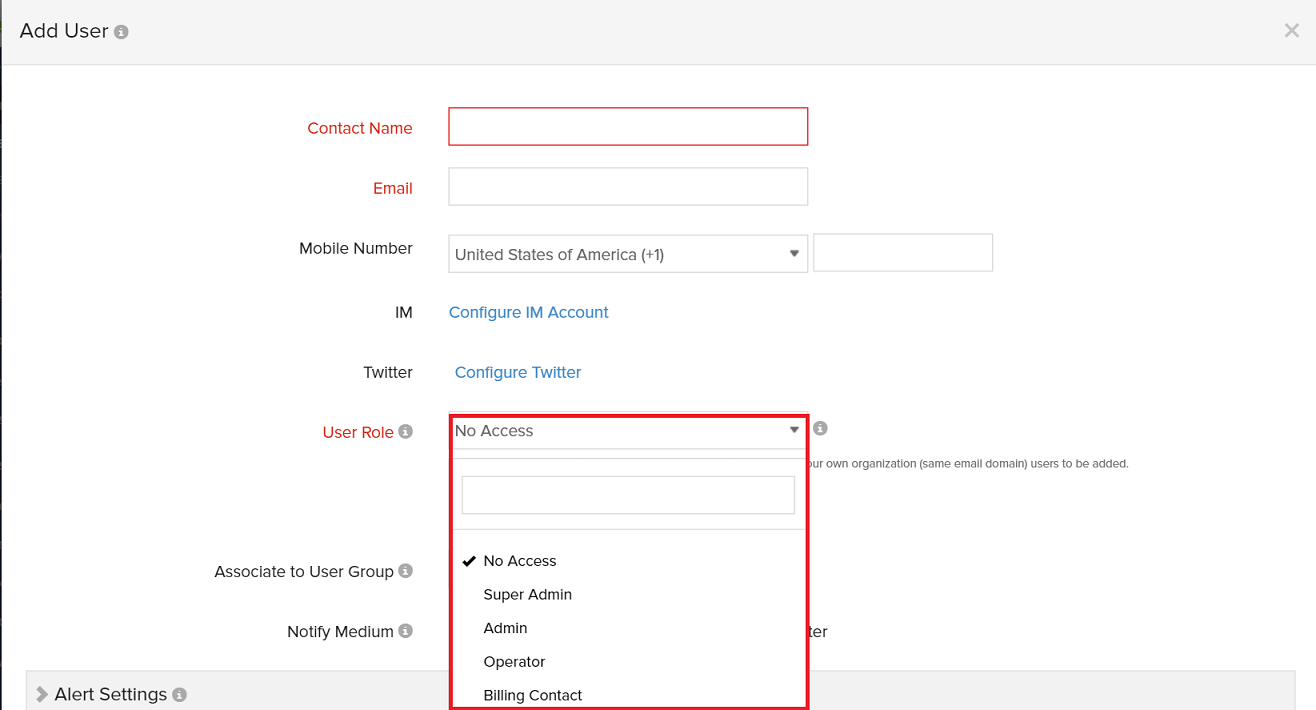 The different functions that can be delegated to sub-users are listed below.
| | |
| --- | --- |
| Role Name | Permissions |
| No Access | No access to the Site24x7 Client / API |
| Admin | Administrators will have write access to the most of the modules except Billing and User Access |
| Operator | Operator will have read only access to most of the module. Will have write access to Schedule a maintenance |
| Billing Contact | User will have access only to Billing modules like Upgrade and Renewals |
| Spokesperson | User will have read access to all the modules. User will have permission to post public comments through Dashboards |
| Hosting Provider | User will have permission to configure Schedule maintenance |
To learn more on the different user roles and related access permissions, refer here
Related Articles

Adding sub-users to your Site24x7 account

As the Super Admin/Admin of your Site24x7 account, you will be able to invite and add a user to be part of your Site24x7 account. When the primary Site24x7 account holder adds a sub-user, a Site24x7 account will be automatically created for that ...

Different user roles and related access permissions

Site24x7 lets you have a control over the access level of the users and the administrator of an account can add multiple users by providing them with various access permissions. Following are the user roles in Site24x7, which can be entailed to a ...

Add a sub-user

For adding a sub-user, please follow the steps given: Login to Site24x7 Navigate to Admin > Users > Click on the (+) icon Fill in basic details including Name, mobile number, email address, and IM account Specify User Role and associated User Group ...

Can my existing sub-users access their account after migration

Yes, they can. However, your sub-users will also receive an email with relevant account credentials, using which they can login. If any of your sub-users already have a personal account with Zoho, a new login will not be created and they will be able ...

Can a Site24x7 sub-user generate an API key?

No, a sub-user won't be able to generate API key. API key is unique to an account and primarily used to pull data from the Site24x7 account. Hence, API key generation is restricted to the Organization Super Admin of that particular Site24x7 account.