Updating VMware credentials in bulk
Credentials are stored encrypted in the credential profile, and you can add or edit the credentials in the
credential profile
.
To update and associate VMware credentials in bulk to existing monitors and their child monitors:
Go to VMware > Update VMware Credential.
In the Update VMware Credential form that opens, enter the following:


Type: Choose vCenter or ESX/ESXi Host.
Monitor Name: From the drop-down menu, choose the monitors for which the account credentials have to be updated.

Poll Using: If you choose ESX/ESXi Host type (in the first step), this checkbox will be visible.
For ESX/ESXi host,

You can either select poll using VMware ESX/ESXi or VMware vCenter credentials.
If you choose the VMware vCenter polling method, select the Associated vCenter Monitor in the next step.

Choose the desired credential name from the drop-down menu.

Click Update.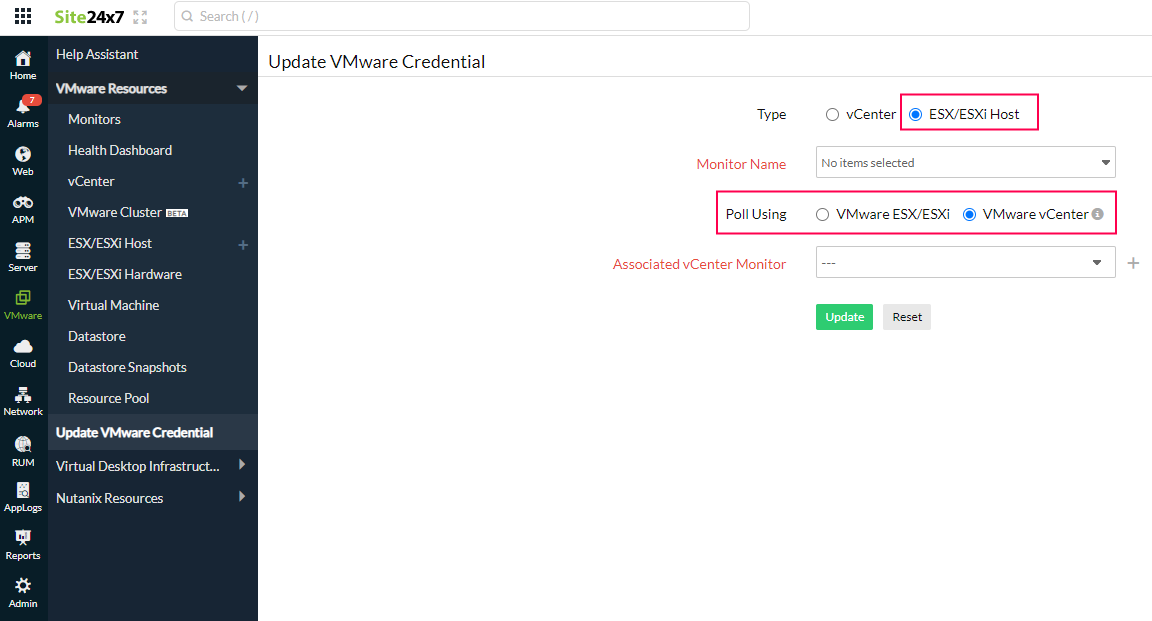 Related Articles

Different types of polling for VMware resources

Site24x7 supports monitoring for different VMware resources like vCenter, clusters, ESX/ESXi host, virtual machines (VMs), datastores, resource pools, and snapshots using On-Premise Poller. You can monitor the discovered VMware child resources using ...

Bulk action to auto-discover VMware resources

You can enable autodiscovery to monitor all the VMware virtual machines (VMs), datastores, resource pools, and snapshots in bulk at the associated VMware ESX/ESXi host level. Simply choose Yes next to your preferred resources and select the VMware ...

How to share the SNMP v3 request logs to analyze credential issues

The Site24x7 support team is available to assist you with solving SNMP v3 request credential issues. To troubleshoot the issue, we need you to capture SNMP v3 request logs data and send it to us. This article describes the process to capture this ...

Infrastructure monitors pricing update-March 2023

Over the years, as we have extensively enhanced our product capabilities and evolved to become a full-stack monitoring platform, we have left our pricing untouched since 2012. With rapid increases in infrastructure costs, we are forced to increase ...

Update the iPhone or Android native apps

You need to update your existing iPhone and Android native apps from the App Store and Google Play respectively. You will not be able to sign in to your existing native apps without updating them. Scan the below QR codes from your handsets. Or click ...